United Township

High School




Class Of 1970
Please share your news (anniversaries, loss of family members or classmates, new additions to your family, retirements, etc.) or your suggestions for Lunch Bunch events to: tjwatson@mchsi.com
---
Save the dates!.
Can you believe it? Our 50 year class reunion is now just months away. We hope you've blocked out the dates of August 14-16, 2020 to attend the reunion.
We have a variety of activities scheduled over the reunion weekend: an optional golf outing at Pinnacle Country Club on Friday, a tour of the UTHS campus on Friday afternoon at 4:00 PM, a get-reacquainted gathering at 6:30 PM on Friday evening at the East Moline American Legion, the reunion dinner party starting at 5:30 PM on Saturday at the Holiday Inn in Rock Island, and a buffet lunch on Sunday at 11:00 AM at Frank's Pizzeria. Pre-registration will be required for the reunion weekend. Other activities and details will be announced as plans are finalized.
A block of hotel rooms have been reserved at the Holiday Inn, 226 17th Street Rock Island, IL. Please be sure to specify UTHS Class of 1970 when making your reservation.
We will not be mailing invitations for the reunion so please encourage classmates who have not yet created their "Classmate Profiles" on this class website to do so as soon as possible.
We have a number of classmates assisting with the reunion plans and will need more volunteers to help out during the reunion weekend. Please contact Trudy Mills Watson if you'd be willing to volunteer on the reunion committee.
Hope to see you in 2020!
The Reunion Committee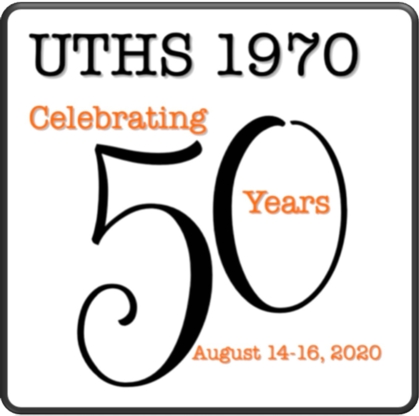 You may register online with credit card payment. Download general reunion info here. Download a registration form here and return by mail with your money order payment.
---
Lunch Bunch ☘️
The March Lunch Bunch gathering is scheduled at noon on March 7 at the Parkside Grill and Lounge, 2307 5th Avenue, Moline. If you plan to attend, would you please let me know by March 5th so we can reserve adequate table space for the group? Thanks! Hope to see you there!
Trudy (tjwatson@mchsi.com)
---
With Sympathy
Our condolences to:
Marilyn (Land) Whittington on the passing of her mother on February 2, 2020.
Howard Schmidt on the death of his mother-in-law. Mrs. Zanetello died on January 22, 2020.
Anne (Freiberg) Riley on the death of her mother on January 21, 2020.
William Perkins on the passing of his mother on January 18, 2020.
Dee (Nelson) York on the passing of her brother on January 15, 2020.
Phyllis Ruby on the passing of her sister (Debbie) on December 13, 2019.
Mike Staab on the passing of his mother on December 15, 2019.
Pam (Fulscher) Daffara on the death of her brother-in-law on December 10, 2019.
Pat (Wallace) Brown on the death of her mother on December 8, 2019.
---
---
Webmaster: Trudy Mills Watson