United Township

High School




Class Of 1970
Please share your news (anniversaries, loss of family members or classmates, new additions to your family, retirements, etc.) or your suggestions for Lunch Bunch events to: tjwatson@mchsi.com
---
Upcoming Lunch Bunch Event
Classmates and guests are invited to the Lunch Bunch's gatherings on the first Saturday of each month at noon.
The next Lunch Bunch gathering is scheduled on March 3rd at noon at Frank's Pizza, 711 1st Ave, Silvis. Hope to see you there!
---
Mini-Reunion in Florida
Four of our classmates held a mini-reunion in Florida earlier this month: Randy Porter, Howard Schmidt, Ken Archibald, and Gary Clapp.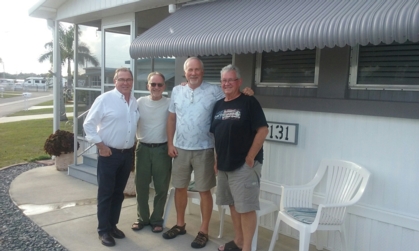 ---
Congratulations
Two of our classmates, Paul and Debbie (George) Laird, were featured in an article by John Marx in the Dispatch-Argus on January 12, 2018. Paul "Postcard Guy" has been sending postcards since 1992 and estimated that over 37,400 postcards have been sent across the globe. http://qconline.com/lifestyles/joh_marx/postcard-guy-has-sent-more-than-greetings/article_12847e6d-78ba-562b-8cca-f2913ad71b33.html#tracking-source=home-top-story
---
With Sympathy
Our condolences to the family and friends of our classmate:
Barbara Reger Roberson who died on February 3, 2018.
Our condolences are also extended to:
Joan (Allen) Pfeiffer and Willis "Bill" Graham on the passing of their mother on February 16, 2018.

Kathy (Kerns) Crain on the death of her sister on January 25, 2018.

Christi (Whitbeck) Steiner on the death of her mother on January 11, 2018.
---
Webmaster: Trudy Mills Watson