United Township

High School




Class Of 1970
Please share your news (anniversaries, loss of family members or classmates, new additions to your family, retirements, etc.) or your suggestions for Lunch Bunch events to: tjwatson@mchsi.com
---
Pandemic Update
We hope that you and your loved ones are remaining safe and healthy during the COVID-19 outbreak. Please post an update on your Classmate Profile to let us know how you're doing. Don't hesitate to reach out if there's some way in which we can help out during this crisis.
---
It's Rescheduled!
We have combined our postponed 50 year class reunion with a 70th birthday celebration for the Class of 1970. Keep August 12-14, 2022 blocked out for a fun reunion weekend! Anyone interested in helping on the 2022 reunion committee, please contact Trudy.
As more details become available, we'll post them here.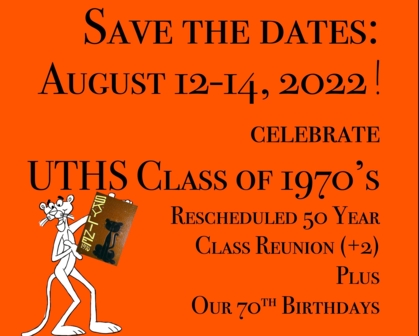 ---
❤️ Golden Wedding Anniversaries ❤️
Congratulations on 50 years of marriage!
June 2020 💕
Marlow (Laud) and Bob Groy

Brad and Vickie (Howard) England

Linda (Brokaw) and Steve Raske
July 2020 💕
Dee (York) and Jim Nelson
September 2020 💕
Greg and Amy (Waltman) Gaskins
October 2020 💕
Rich and Chris (Hawotte) Lynn
---
Remember When?
Steve Fonteyne shared this photo of promotional items that were sold by the Student Council to raise money for the bus trips to watch our Panthers play during the great 1969-1970 basketball season.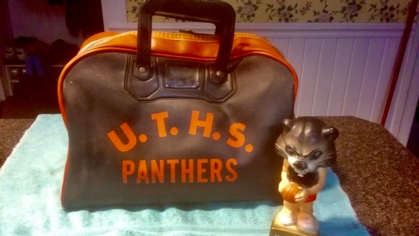 ---
---
With Sympathy: Recent Losses
Our condolences to:
the family and friends of our classmate, Anne (Freiburg) Riley. Anne died on January 18, 2021.

Jim Whipple on the passing of his mother on January 11, 2021

Roly Sandoval on the death of his father on December 25.

Dick Churchill on the passing of his sister (Linda) on December 24.

B

ecky (McLaughlin) Dexter on the passing of her husband on December 15.

Bruce Sletten on the passing of his brother (Laurence) on December 14.

Lucinda (Siddons) Chantry on the passing of her father on December 12.

Skip and Linda (Shaner) Day on the death of Skip's daughter on December 10.

Jimmy Scott on the death of his mother on December 6.

Pam (Wendel) Williams on the death of her father on December 4.

Kimball Rosenberg on the passing of his mother on December 3.
Thanks to Laura (VandeGeest) Burke and Natalie (Huber) Frutiger for their assistance with notifications of these losses.
---
---
Webmaster: Trudy Mills Watson