United Township

High School




Class Of 1970
Please share your news (anniversaries, loss of family members or classmates, new additions to your family, retirements, etc.) or your suggestions for Lunch Bunch events to: tjwatson@mchsi.com
---
Upcoming Lunch Bunch Event
Classmates and guests are invited to the Lunch Bunch's gatherings on the first Saturday of each month at noon.
Scott Stephens has arranged for our next Lunch Bunch gathering at Generations Bar and Grill, 4100 4th Avenue, Moline at noon on May 5, 2018. Hope to see you there!
---
2020 Reunion
Would you please take a few minutes to complete the reunion survey to help us "guesstimate" the number of attendees likely to attend our 50 year class reunion? We need to ensure that we select venues with adequate space for the reunion activities. Please complete the survey by April 30, 2018. Thank you!
---
Mini-Reunion in Florida
Four of our classmates held a mini-reunion in Florida earlier this month: Randy Porter, Howard Schmidt, Ken Archibald, and Gary Clapp.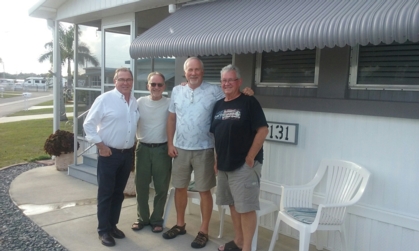 ---
With Sympathy
Our condolences to the family and friends of our classmates:
Charles "Chuck" Reese (died on March 29, 2018.)
Mike Stone (died on March 20, 2018.)
Barbara Reger Roberson (died on February 3, 2018.)
Our condolences are also extended to classmates on the loss of loved ones:​​
Gerald "Gary" Andress on the death of his father on April 10, 2018.

Fred Roden on the passing of his wife on March 30, 2018.

Dana Johnson on the death of his mother on March 30, 2018.

Virgil Thurman on the death of his mother on March 23, 2018.

Vicki Witt on the passing of her brother on March 20, 2018.

Nancy (Coopman) Neumann on the death of her sister on March 19, 2018.

Joan (Allen) Pfeiffer and Willis "Bill" Graham on the passing of their mother on February 16, 2018.

Kathy (Kerns) Crain on the death of her sister on January 25, 2018.

Christi (Whitbeck) Steiner on the death of her mother on January 11, 2018.
Our condolences are extended to the families and friends of our former teachers:
Mr. William Hansen, a former teacher at Bowlesburg School and principal in the East Moline School District. Mr. Hansen died on March 19, 2018.

Mr. Al Zimmerman who died on March 16, 2018.

Mrs. Anita Murrens (89) who died on February 27, 2018.

(

A celebration of life is scheduled for the weekend of June 9 in the Quad-Cities.)
---
Webmaster: Trudy Mills Watson