United Township

High School




Class Of 1970
Please share your news (milestone anniversaries, loss of family members or classmates, new additions to your family, retirements, etc.) or your suggestions for Lunch Bunch events to: tjwatson@mchsi.com.
52/70 REUNION UPDATE
After the COVID-19 pandemic mitigation mandates derailed our 50 year class reunion plans in 2020, we were forced to postpone our golden reunion. We have combined our 52 year class reunion with a 70th birthday bash for the UTHS Class of 1970 over the weekend of August 12-13, 2022.
This will be the FINAL reunion weekend for our classmates, guests, and friends of the class. As we've learned from other classes, reunion activities beyond the 50th (or in our case, our 52nd) year class reunion are usually limited to a single, daytime event.
Please share the reunion dates with classmates who aren't on this website or aren't on our Facebook Classmates page and encourage them to sign up.
Here are highlights of our 2022 plans:
An optional golf outing at Pinnacle Country Club in Milan, Illinois on Friday morning, August 12.

(Anyone planning to golf in the reunion outing must sign up by July 12.)

A campus tour of UTHS on late Friday afternoon.

An Icebreaker gathering at the American Legion in East Moline on Friday evening .

A reunion dinner party at the Holiday Inn, Rock Island on Saturday evening, August 13 with a class photo scheduled before dinner.
As of June 22, 2022, we have classmates and guests from 16 states registered to attend!
Registration will continue until July 25, 2022 for online registrations. Log in and click on the 2022 Reunion Info and Registration link on the navigation bar to access online registration or click below to download a registration form to mail. Registrations must be postmarked by July 18, 2022 to ensure they're received by the deadline.
Click on the highlighted PDF to download the registration form in PDF format.
Click on the highlighted Word to download the registration form in Word format.
There is a single fee of $55.00 per person for admission to attend one, two, or all three of the reunion activities: the campus tour, the Icebreaker party, the 52/70 reunion dinner party. The fee will not be pro-rated. Pre-registration is required and payment must be received by July 25, 2022.
---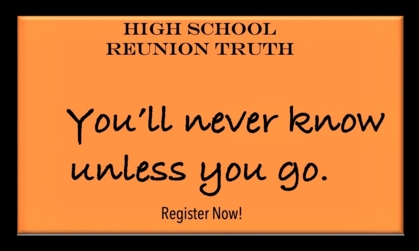 ---
HOTEL ACCOMODATIONS
A limited block of rooms has been reserved at the Holiday Inn, 226 17th Street, Rock Island, Illinois. Please mention UTHS 1970 when you make your room reservation to receive the reduced rate: 1 888 HOLIDAY or 309 794-1212.
---
QUILT RAFFLES
Our multi-talented classmate, Gerald 'Gary' Andress, created, quilted and generously donated two quilts which will be raffled off during the reunion. The orange, black, and, white quilt honoring UTHS' school colors fits a queen-sized bed while the plaid, graphic t-shirt quilt is a generous sized, lap quilt.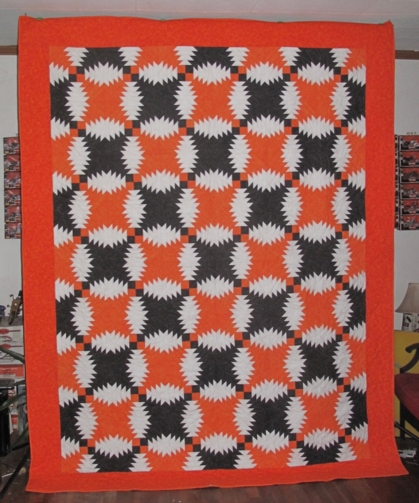 #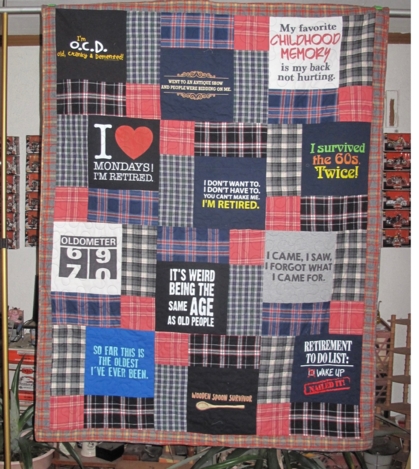 #
---
🍕 Frank's Pizzas 🍕
If anyone living out of the Quad-Cities area would like to take home pizzas from Frank's after the reunion, Randy Serra suggests that several days before the reunion that you pre-order the pizzas of your choice as either half-baked or fully baked then frozen pizzas. If you request it, his crew will even cut them in half or quarters for ease of transport.
To order frozen pizzas from Frank's, call (309) 755-0625 and specify single topping ($23.30), two toppings ($26.30), or three toppings ($29.30).
---
Congratulations!
Sherry (Gean) and Rick DeLaRosa celebrated their golden wedding anniversary on June 17. Wishing you both happiness always!
Sandy Grudzinski Sterner welcomed her first great-grandson, Carter Allen on June 3.
Bob and Marlow (Laud) Groy welcomed their new great-grandson, Jaxson James on April 23. Happy cuddling!
Missy (Johnson) Passno welcomed a new great-grandson, Dominik Joseph who arrived on January 13.
Laura (VandeGeest) Burke and her daughter-in-law, Paige, were interviewed on Paula Sands Live regarding their efforts to rescue Monarch butterflies. Here's a link to the segment:
https://www.kwqc.com/2022/03/08/monarch-rescue-team-making-difference/ 🐛
---
Attempted Hacks
In recent months, we've had several attempts by scammers trying to gain access to our website. As a result of these unsuccessful attempts of scammers posing as classmates, whenever an email change or a password change is requested, I now will ask you to answer several questions so I know the request is actually made by a classmate. Please do not be offended by this extra step to try to maintain the security of our website and keep scammers out.
---
Webmaster: Trudy Mills Watson