United Township

High School




Class Of 1970
Please share your news (milestone anniversaries, loss of family members or classmates, new additions to your family, retirements, etc.) or your suggestions for Lunch Bunch events to: tjwatson@mchsi.com.
---
IT WAS OVER MUCH TOO QUICKLY!
What a great turn-out for our 52-70 Reunion weekend! The reunion wouldn't have been possible without the classmates and friends who supported the reunion through their financial donations, their encouragement throughout the planning process, and by sharing their time and talents to set up, work on-site, and clean up follow the events. It takes a village and I hope all of those who assisted with the reunion events know just how much it was appreciated!
Thanks, too, to each of you who attended from near and far. It was great to see so many longtime friends and to finally see some classmates for the first time since we graduated.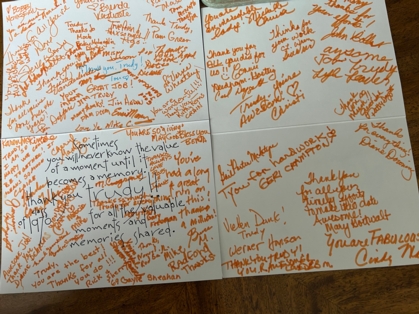 You literally had me sobbing (happy tears) as I opened the gift from all of you! I have since framed the card and have it on my desk along with the sweet Isabel Bloom. You have no idea how much your kind words, hugs, emails, texts, and calls over the past few days have meant to me so THANK YOU! ❤️
---
Reunion Photos
Please email (tjwatson@mchsi.com) your favorite candid photos from the golf outing, the UT tour, the Icebreaker, and the dinner party. I'm working on creating a reunion album for us on this website.
---
Winner, Winner
---
Marlow Laud Groy is the proud new owner of the queen size quilt and Laverne Blackman Wheatly was the lucky recipient of the lap quilt. The quilts were created and donated by our classmate Gerald "Gary" Andress who unfortunately was unable to attend the reunion as planned. Thank you again to everyone who purchased chances on the quilts at the reunion. The money will be applied to the annual class website fees.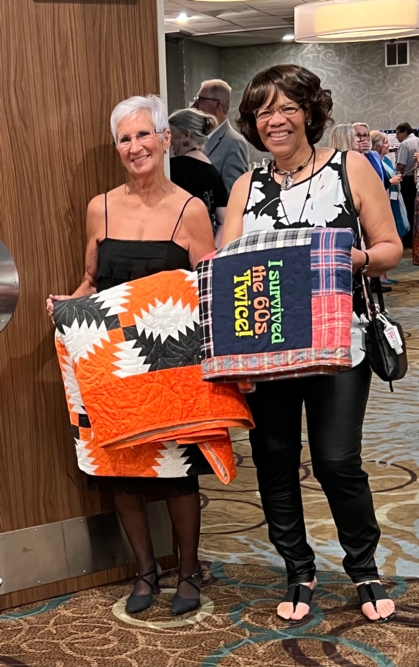 ---
Congratulations!
Sherry (Gean) and Rick DeLaRosa celebrated their golden wedding anniversary on June 17. Wishing you both happiness always!
Sandy Grudzinski Sterner welcomed her first great-grandson, Carter Allen on June 3.
Bob and Marlow (Laud) Groy welcomed their new great-grandson, Jaxson James on April 23. Happy cuddling!
---
Attempted Hacks
In recent months, we've had several attempts by scammers trying to gain access to our website. As a result of these unsuccessful attempts of scammers posing as classmates, whenever an email change or a password change is requested, I now will ask you to answer several questions so I know the request is actually made by a classmate. Please do not be offended by this extra step to try to maintain the security of our website and keep scammers out.
---
Webmaster: Trudy Mills Watson