United Township

High School




Class Of 1970
Please share your news (milestone anniversaries, loss of family members or classmates, new additions to your family, retirements, etc.) or your suggestions for Lunch Bunch events to: tjwatson@mchsi.com.
---
There's an old Dolly Parton song with the lyric that says "You can't make old friends...". So true! How blessed we are to have friendships that have endured all these years. ❤️
---
Happy Holidays, Everyone!
Sending you love, light, and laughter for good memories and a bright and healthy 2023!
---
November Lunch Bunch
Thanks to everyone who braved the blustery, rainy weather to join us for the November 5, 2022 Lunch Bunch at Frank's.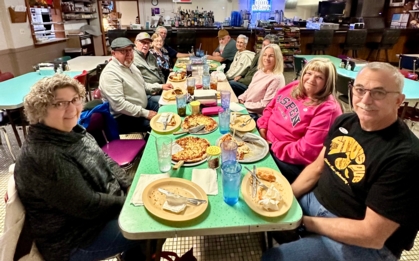 ---
Reunion Photos
To view the reunion photos, log in and click on the 52-70 Reunion Photos link on the navigation bar. You can click on an individual photo to enlarge it or view the gallery as an automatic slide show. (You can change the number of images per page from 12-96 or jump to a specific page from the drop down menus.) The variation in photo sizes results from the differences in everyone's camera settings and/or sizes of images forwarded.
---
Congratulations!
Gail (Lamansky) and Bill Hess celebrated their 50th wedding anniversary on September 1. Congratulations on your golden anniversary!
Sherry (Gean) and Rick DeLaRosa celebrated their golden wedding anniversary on June 17. Wishing you both happiness always!
Sandy Grudzinski Sterner welcomed her first great-grandson, Carter Allen on June 3.
---
Attempted Hacks
In recent months, we've had attempts by scammers trying to gain access to our website. As a result of these unsuccessful attempts of scammers posing as classmates, whenever an email change or a password change is requested, I now will ask you to answer several questions so I know the request originated from a classmate. Please do not be offended by this extra step to try to maintain the security of our website and keep scammers out.
---
Webmaster: Trudy Mills Watson