United Township

High School




Class Of 1970
Please share your news (milestone anniversaries, loss of family members or classmates, new additions to your family, retirements, etc.) or your suggestions for Lunch Bunch events to: tjwatson@mchsi.com
---
Lunch Bunches on hold 😷
The majority who attend our Lunch Bunch events are at an increased risk for COVID-19 due to our age group plus many have chronic health issues which also increase their vulnerability. As a result, we have put the Lunch Bunch gatherings "on hold" until the cases of COVID decrease in our community. Stay safe so you can enjoy the holidays! See you sometime in 2022!
---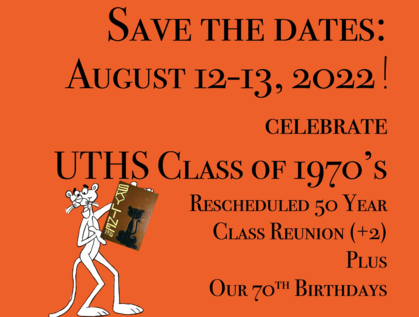 It's Rescheduled!
We have combined our postponed 50 year class reunion with a 70th birthday celebration for the Class of 1970. Keep August 12-13, 2022 blocked out for a fun reunion weekend! Anyone interested in helping on the 2022 reunion committee should contact Trudy.
As more details become available, we'll post them here.
---
Recent Losses
The list of 2021-2022 losses has been moved to a separate page. Click on Recent Losses on the navigation bar.
---
---
Webmaster: Trudy Mills Watson